Salamis Filoxenia Shore Excursions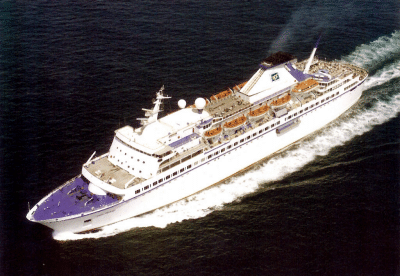 | Port | Excursion | Price Adults | Price Children | Trip Duration | Meal |
| --- | --- | --- | --- | --- | --- |
| Holyland (1) | Jerusalem and Bethlehem - Visits, in Jerusalem to the Church of the Holy Sepulchre, Golgotha and Via Dolorosa. In Bethlehem at the Church of the Nativity | 75 | 40 | 12 | Restaurant |
| Holyland (2) | Jericho - St. Gerasimos Church - Jerusalem | 85 | 45 | 11 | Lunch Box |
| Holyland (3) | Nazaret - Galilee - Jordan River | 65 | 35 | 10 | Restaurant |
| Ayios Nikolaos - Crete | Spinalonga - Transfer by boat and island guided tour | 20 | free | 3 | None |
| Edipsos | Visists to St. John the Russian, the churches of St. David & St. Panteleimon and Edipso's thermal springs | 35 | 18 | 9 | Lunch Box |
| Volos (1) | Excursion to Meteora | 55 | 28 | 9 | Lunch Box |
| Volos (2) | Excursion to Pilio, Makrynitsa and Portaria | 32 | 18 | 3 & 1/2 | None |
| Zakynthos  | Walking tour of historical sites as Dyonisios Solomou Sq. and St. Markos Sq., Mpohali, Our Lady of Chrysopigi and St. Dyonisios Church | 15 | free | 3 - 3 & 1/2 | None |
| Thessaloniki | City tour - St. Demetrios, Souroti, St. John Monastery and visit to the tomp of Elder Paisios. Free time for shopping | 35 | 18 | 5 | None |
| Kavala (1) | Excursion to Thasos by boat - Visits to the Monastery of Archangel Michael and a stroll at the port | 35 | 18 | 7 | Lunch Box |
| Kavala (2) | Excursions to Afxentio and Xanthi | 15 | 8 | 6 | None |
| Kavala (3) | Tour of Kavala and at the Monastery of Our Lady of Ikosifonissa | 22 | 11 | 1 & 1/2 | None |
| Kalymnos | Visit to the Monasteries of St. Panteleimon & St. Savva and at the Temple of Our Saviour Christ  | 15 | 8 | 3 & 1/2 | None |
| Corfu | Visit at the Palace of the Empress Sissi (Achilleion), at the Kanoni and the Holy Church of St. Spyridonas | 25 | 13 | 4 | None |
| Kalamata | Visit at the church of St. Theodora of Vsta and the Monastery of St. Constantine & Helena | 34 | 17 | 5 | None |
| Kos | Visit at the Monastery of St. Nektarios and the village of Zia | 25 | 13 | 3 | None |
| Limnos | Visit at the historical village of Moudros and a stroll at Myrina | 15 | 8 | 3 | None |
| Lebanon | Excursion to Byblos, the church of Harissa, Jeita Grottoes | 70 | 35 | 8 | Restaurant |
| Mytilini | Visit at the Monastery of St, Raphael, Taxiarxis, Mantamado and the Our Lady of Agiasou | 25 | 12 | 6 | Lunch Box |
| Nafplio | Visit at the Monastery of Panagia Malevi | 35 | 18 | 5 - 5 & 1/2 | None |
| Patmos | Visit at the Holy Cave of Apokalypeos and the Monastery of St John | 18 | 12 | 3 | None |
| Patra (1) | Excursion to Nafpaktos, the Church of St. Seraphim Sarof and St. Andreas in Patra | 30 | 15 | 6 | None |
| Piraeus | New Acropolis Museum (with Museum Entrance) - Plaka | 36 | 19 | 5 | |
| Piraeus | Visit to St. Irini Xrysovalantou and St. Efraim | 26 | 16 | 5 & 1/2 | |
| Rhodes | Panagia Tsampika & Kalithea | 28 | 18 | 3 & 1/2 | None |
| Samos | Visits at Ireon, Pythagorion and Megali Panagia | 35 | 18 | 4 | None |
| Syros | Transfer by boat to Tinos for pilgrimage | 19 | 10 | 4.5 | Lunch Box |
| Hania (Souda) | Visit at the church of Arkadio and Rethymno | 30 | 15 | 8 | Lunch Box |
| Chios | Visit at the church of St. Marcella, Nea Moni and St. Minas.  This tour will only materialize on the 07/07/14 . | 30 | 15 | 6 | Lunch Box |
Holy Land Shore excursion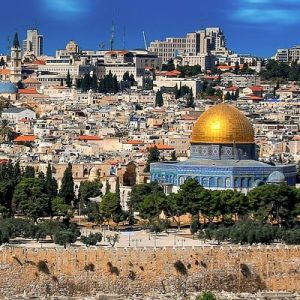 Jerusalem & Bethlehem with lunch
Our journey to the Holy Land begins at the port of Haifa, passing by the cities of Netanya, Herzliya and Tel Aviv, as well as the legendary Jaffa orange groves towards the biblical city of Jerusalem. Discover the wonders of this historical city on foot with your guide by stepping through the Jaffa Gate and into the world of the past. Thread through the bustle and hustle of the bazaar and around the quaint narrow cobbled streets, which will lead you to the Church of the Holy Sepulchre and Golgotha. Following Jesus footsteps, we will walk Via Dolorosa leading us to the renowned Wailing Wall.
Our tour continues with a stop for a panoramic view of the Temple Mount, the Dome of the Rock and Al Aksa Mosques. On our way to Bethlehem, we will have the chance to view the Garden of Gesthemane on the footsteps of the Mount of Olives. In Bethlehem, after lunch at a local restaurant, we will visit the Church of the Nativity and the Grotto, built over Jesus' birthplace.
Note: The above program is subject to change, based on official permission being granted to enter Bethlehem.
Cost: Adults: euro 75, Children under 12: euro 40.
Jericho, Monastery of Saint Gerasimus and Jerusalem with lunch box
This excursion is only available when the Salamis Filoxenia makes a three day cruise to the Holy Land.
Cost: Adults: euro 85, Children under 12: euro 45.