Kempinski Hotel Grand Arena Bansko
There is no question which is Bansko's finest hotel.  The award winning Kempinski Hotel Grand Arena Bansko is in a league of its own.  The hotel is built in a typical Alpine architectural style and affords spectacular views of the Pirin mountains and the ski runs in particular. Varianos Travel is pleased to be able to offer for the 2020 ski season packages to Bansko, Bulgaria from Cyprus with stays in this award winning hotel.  Do note that the Kempinski Hotel Grand Arena Bansko is one of the very few hotels in Bansko that offers its guest the ability to purchase a fast track pass to avoid possible queues at the gondola station.
Varianos Travel is truly pleased to be able to offer ski and snowboard holiday packages from Cyprus that include stays in this outstanding and luxurious hotel. Call us at 22680500 or email us to book your ski holiday from Cyprus or to get more information on our ski packages
Our 2020 Ski Holiday Packages to Bansko with accommodation at Kempinski Hotel Grand Arena
All our packages include air tickets between Cyprus and Bulgaria, round trip transfers between Sofia (or Salonika) and Bansko ski resort and hotel accommodation. As flight prices fluctuate daily we will not be posting our offers online. We will be happy to hear from you and give you on the spot individualized quotes for your chosen dates utilizing the best available airfares to Bulgaria.
Book early to take advantage of discounts available by calling our Direct Ski Line 22663477 or emailing us today.
Hotel Location
Situated at the footsteps of the World Heritage Pirin area mountains, the Kempinski Hotel Grand Arena Bansko enjoys the most privileged of locations in the Bansko ski area. The gondola station transferring skiers and snowboarders to the higher slopes of Bansko is located right next to the hotel making the Kempinski Hotel Grand Arena Bansko, the only true Ski In – Ski Out hotel of the area. The historic center of the old town of Bansko with its delightful character is only a few minutes walk from the Kempinski Hotel Grand Arena Bansko. Transfer time from Sofia airport is around two and a half hours.
Kempinski Hotel Grand Arena Bansko Rooms & Suites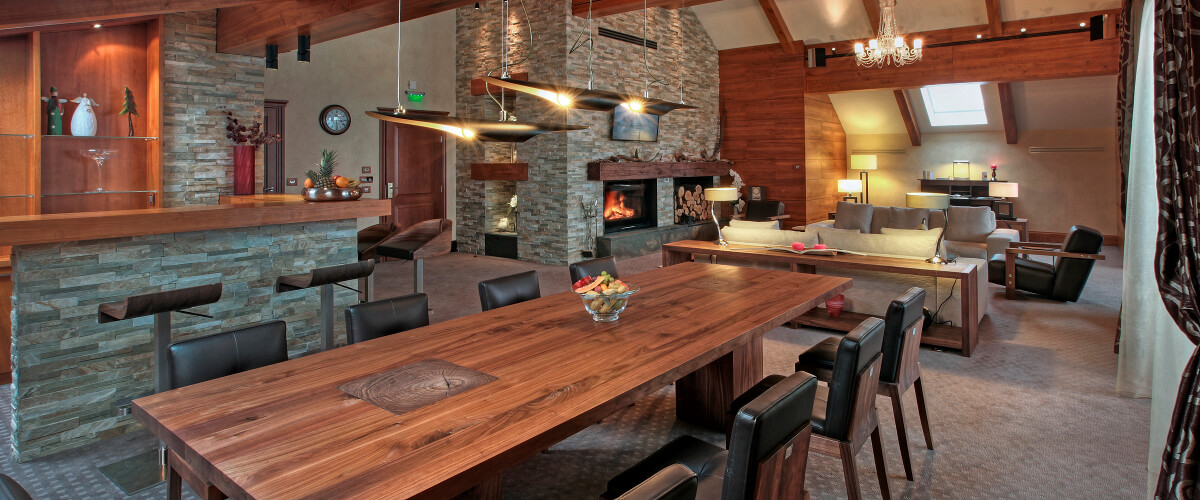 One area that the Kempinski Hotel Grand Arena Bansko truly excels in is the accommodation options it offers. There are 159 rooms and suites with 110 of them being Deluxe rooms. These are, as the rest of the hotel, elegantly designed in an Alpine style with wooden furniture and bright color schemes that create a comfortable and cheerful atmosphere. Size is between 35 and 40 square meters and all rooms have a balcony with mountain or village views, a luxurious bathroom, mini bar, safe box, wireless internet access, satellite TV, 24 hour room service and individually controlled temperature settings.
The hotel's 22 Executive Club rooms offer similar comfort to Deluxe, are slightly bigger and are serviced as a "Hotel within the Hotel". All of Kempinski Grand Arena's Executive Club rooms face the mountain.
Kempinski Hotel Grand Arena Bansko offers four types of suites; Junior, Deluxe, Alpine and Presidential. Sizes are progressively bigger than rooms and residents all have access to Executive Club services. The Deluxe and Alpine suites are the only ones offering quad occupancy for families with the Alpine suites also offering a private sauna and jacuzzi in their bathrooms.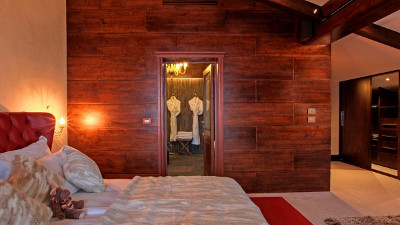 Presidential Suite Bedroom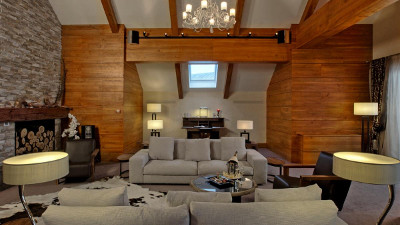 Presidential Suite Living Room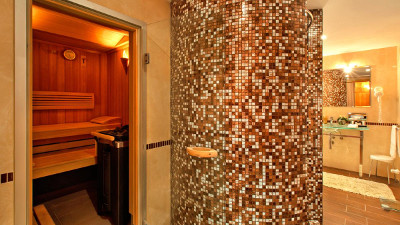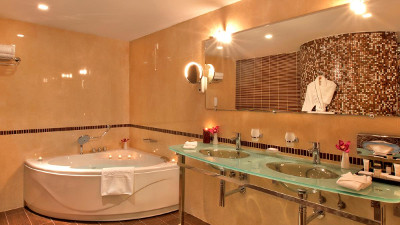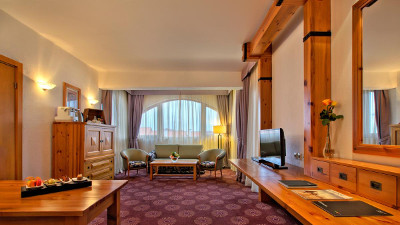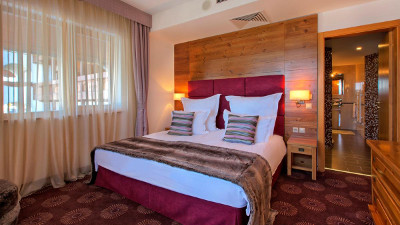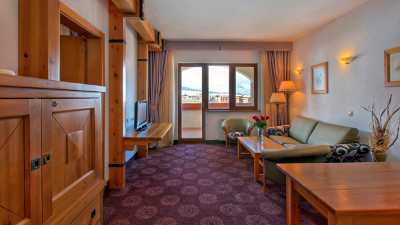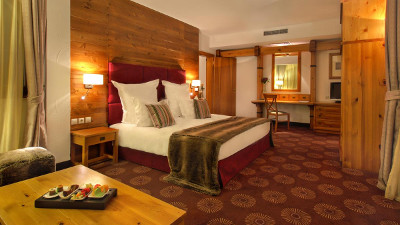 Deluxe Suite Bedroom Town View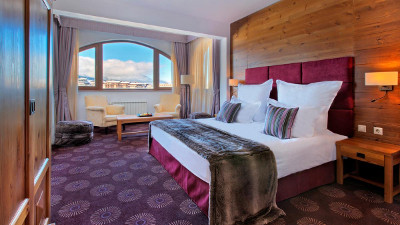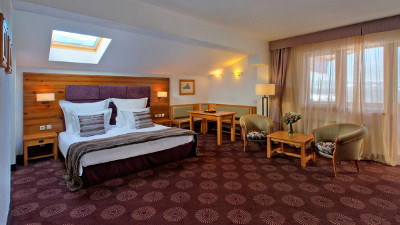 Junior Suite Bedoom Mountain View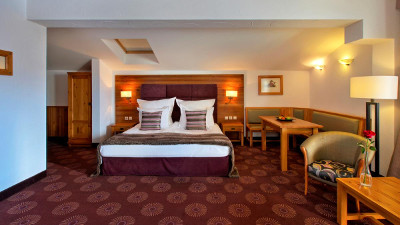 Junior Suite Bedoom Town View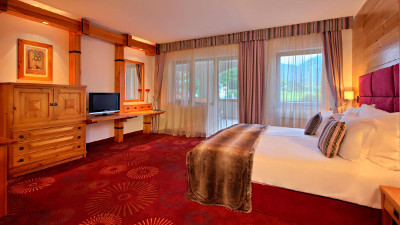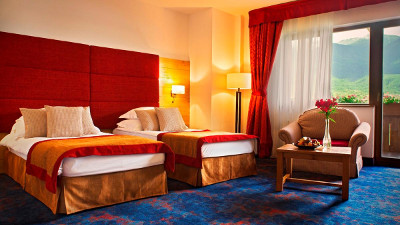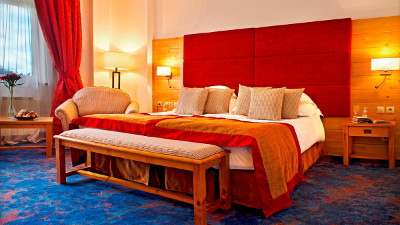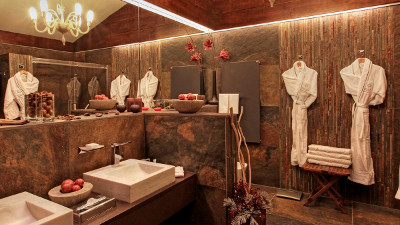 Presidential Suite Bathroom

The Kempinski Hotel Grand Arena Bansko offers the ski resort's premier choices in gourmet dining. Dining experiences include mainly flavors from Bulgarian, Japanese and Mediterranean cuisine. The "Gallery" is the hotel's main restaurant offering thematic buffet selections along with its traditional international menu. "Come Prima" offers fine dining with a mainly Italian flavor. Complimenting its food menu, an extensive wine list is sure to please even the most demanding wine lovers. The "Bella Vista" lounge has a truly fitting name. It is the perfect place to chill out and enjoy the mountain views while sipping your beverage. The Executive Club lounge is a cozy place, reserved for Executive room occupants where you can enjoy your drink or appetizer in serenity. The newest addition to the hotel's culinary offerings is the Sushi Bar offering fantastic fresh Asian cuisine and drinks. One thing is for sure. If you are looking for fine dining and exceptional service you will be pleased with what is on offer at this hotel.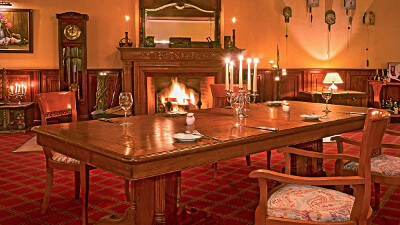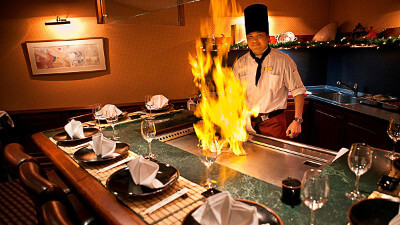 Sushi Bar & TeppanyakiI Grill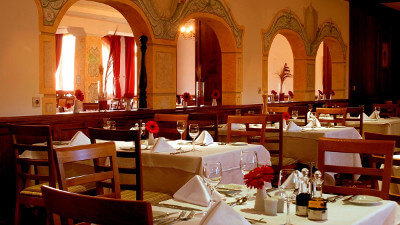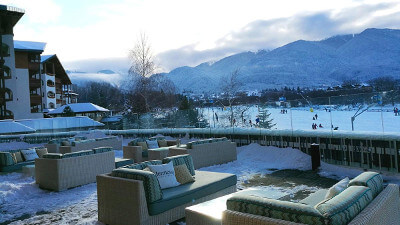 Bella Vista outdoor lounge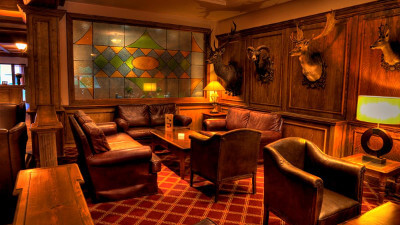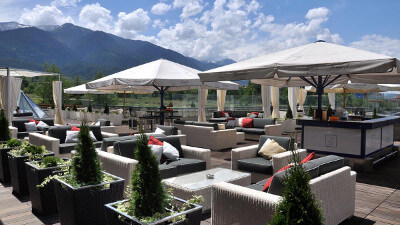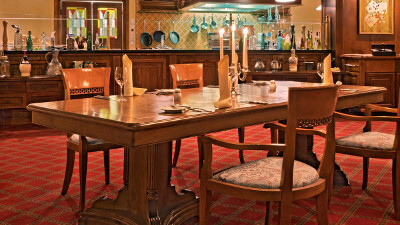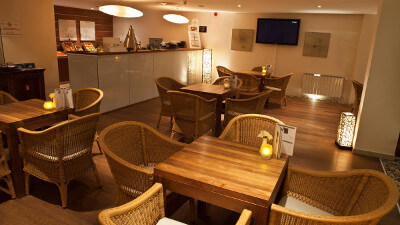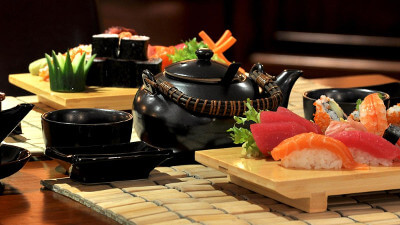 Sushi Bar & TeppanyakiI Grill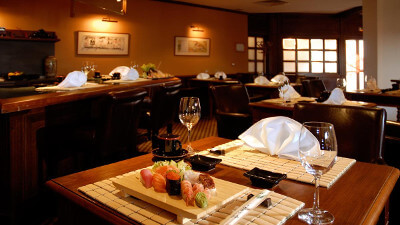 Sushi Bar & TeppanyakiI Grill

No skiing vacation is complete unless you can relax after an exciting day at the slopes.  The Kempinski Hotel Grand Arena Bansko sports its own spa Spa and Wellness Center.  The spa is spread in an area of 1.200 square meters and offers services worthy of the five stars it has.  Its facilities include a well equipped fitness area, aroma and bio saunas, body treatment rooms, a solarium, Turkish bath, massage rooms, an ice room, a beauty saloon, Jacuzzi and heated indoor and outdoor pool.
The spa's highly skilled team can suggest individual health and beauty programs from traditional treatments to the most modern and innovative ways to heal and revitalize your body.  The experienced spa staff can also give advice on health menus.  Prices for the spas services are reasonable with a 50 minute whole body classical massage costing around 35 Euros and a 90 minute Thai massage setting you back about 55 Euros.  We are sure most of our customers will only reluctantly be leaving this luxurious spa center.
The on premises gym is open around the clock.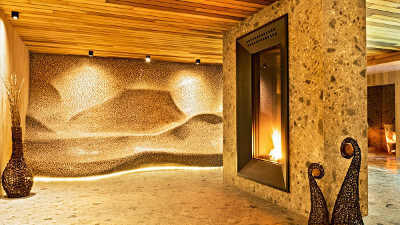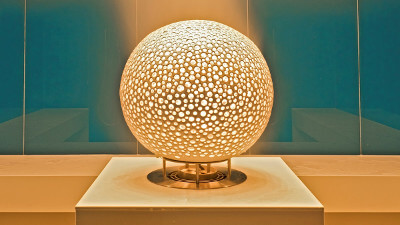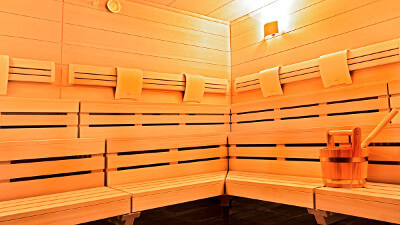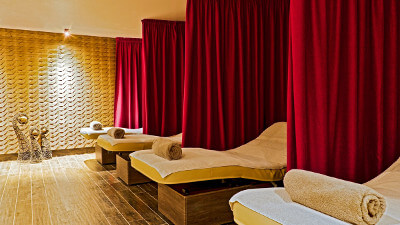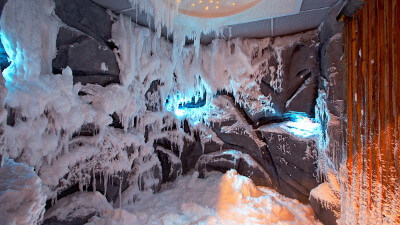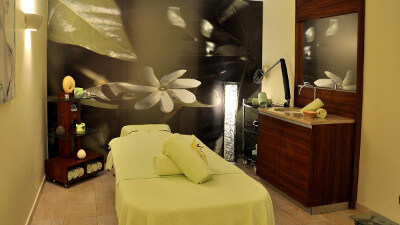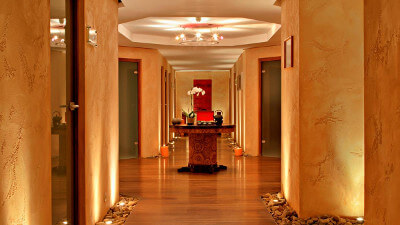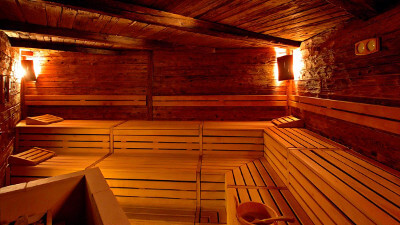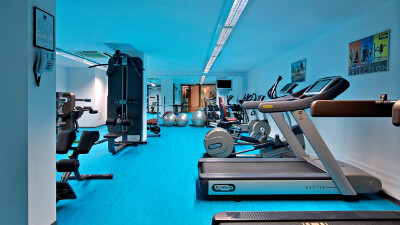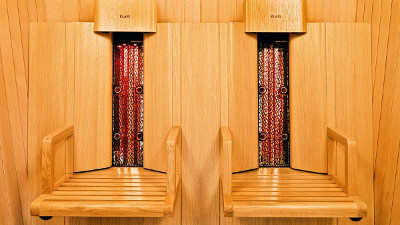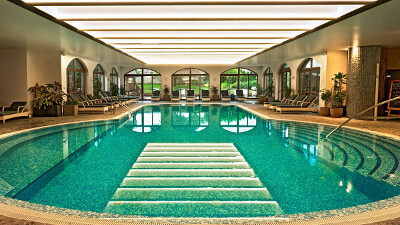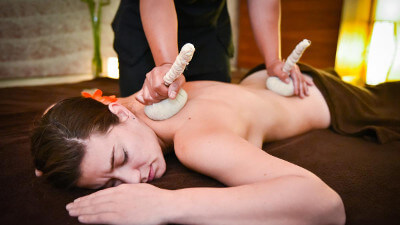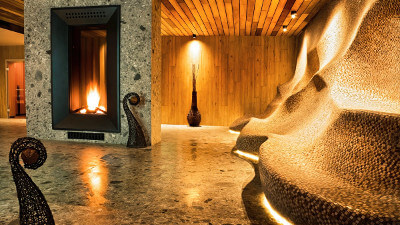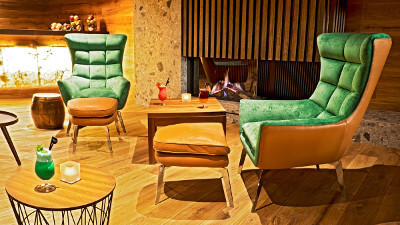 Ski services
Ski storage is available at the exit of the hotel to the slopes.  Rentals are available at the nearby ski shop at the entrance of the gondola, mere meters from the hotel. Residents to the hotel are eligible to purchase a fast track ski lift ticket, allowing holders to skip the gondola line which can be sizable at peak season times.
Kempinski Hotel Grand Arena Package Bookings:
Call us at our Direct Ski Line (22663477) or email us to get your individualized cost of a ski holiday package with a stay at this five star ski in-ski out Bansko hotel. We make skiing holidays easy for you by offering complete travel package solutions. We can arrange flights, transfers between Sofia or Thessaloniki airport and the Kempinski hotel in Bansko, accommodation on various meal plans. Ski or snowboard equipment, lift passes and instruction can also be booked on request. Contact us!