Celestyal Cruises, the successor company to the very popular Cypriot Louis Cruises, is now the only cruise company based in Greece. Drawing on its long history of cruising in the Eastern Mediterranean, Celestyal Cruises now runs exciting cruises out of Piraeus, Greece with the Celestyal Olympia and the Celestyal Crystal. Ports of call include Mykonos, Santorini, Patmos and Rhodes among many others in Greece, Turkey, Egypt, Israel and of course Cyprus.
Seven Day – "Three Continents" Cruise Sails to Egypt, Israel and Turkey From Limassol
We are happy to offer Celestyal Cruises Seven day "Three Continents" cruises as of March 6th 2021, departing from Limassol! The Three Continents cruises are with the luxurious Celestyal Crystal and call at Alexandria and Port Said, Egypt, Ashdod, Israel, Kusadasi (Ephesus), Turkey, Rhodes and Piraeus in Greece. Shore excursions at each of these ports will give passengers a well rounded look into the amazing history and culture of these historic destinations.
Cruise itinerary
Day
Port
Arrival
Departure
Friday
Limassol, Cyprus
18:00
Saturday
Rhodes, Greece
12:00
20:00
Sunday
Kusadasi, Turkey
07:00
19:30
Monday
Piraeus, Greece
09:00
21:00
Tuesday
At sea
Wednesday
Alexandria, Egypt
(technical)
07:00
09:00
Port Said, Egypt
20:00
22:00
Thursday
Asdod, Israel
08:00
22:00
Friday
Limassol, Cyprus
11:00
Departures on:
10, 17, 24 & 31 of March 2021,
24 of November 2021,
01, 08, 15 & 22 of December 2021.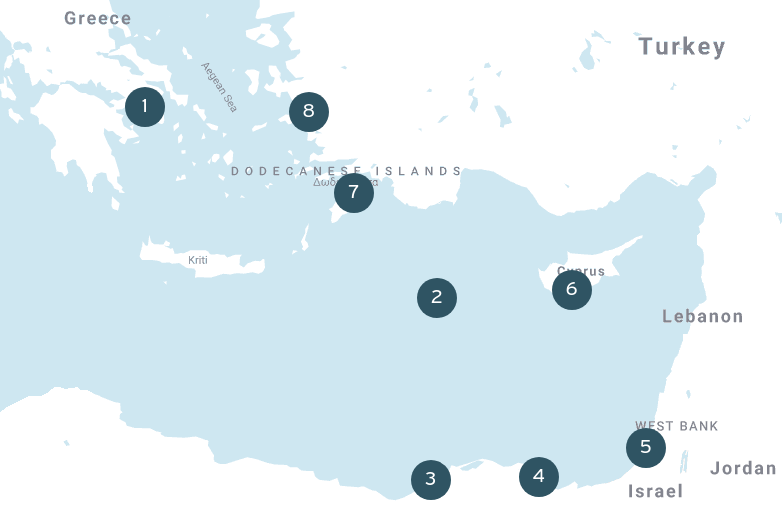 How To Book Your Celestyal Cruise
As Celestyal Cruises mainly start from Greece, we offer our customers two booking options. The first is to book simply the cruise of your choice and the second is to offer "Fly and Cruise" packages. If you wish you can book your Celestyal cruise online directly here on our website.